VEILING
A (Social) Game
The Performance of Intimacy in Public
Your face belongs to you!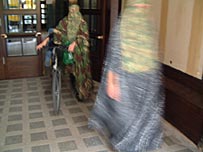 Information, veil trials, thematic presentations, beauty and amazement, demonstration of mimics, catwalk and disco.
Anonymous. Incognito. Private.
Veiling as a chance.
Admission only wearing a veil.
Veils will be made available.
Veiling is a worldwide movement that plays with fashion, symbols and self-portrayal.
Veiling is done by people of all age groups and different social classes.
Veiling expresses a life attitude.
The 'Veiling Movement' was born in the spring of 2000 in Québec, Canada, probably in the scope of the artists' collective 'Quartier Requin.'
At a demonstration of equal rights for gays, lesbians and transsexuals, many of the demonstrators wore veils for the first time. Their slogan was 'free intimacy.'
Surprisingly, many Canadians began to wear their 'demonstration veil' during the following weeks.
The idea spread from Canada to France, where it caught on at the Festival of Avignon in the summer of 2000. Like a chain reaction, the idea passed on to the audience at the performances, and more and more people began wearing veils. Where the multitude of incredibly uniform veils came from remains a mystery.
Most of the veils were made of camouflaging materials in order to convey the idea of disguise and secrecy. And they all wore the 'logo of free intimacy.'
In the meantime, veiling has also come into fashion in the USA and Europe (Love Parades).
In this sense, Veiling has nothing to do with the Islamic religion, which is apparent simply from the fact that men can also wear veils, and that anyone's veil can be removed at any time or place, whatsoever.
The Veiling Movement comprises a collective of people who want to experience intimacy in public.
Their goal is to reconquest the public as a person.
A veil is the smallest possible private sphere, and it is transportable.
Men and women anywhere can avail themselves of our idea. The logo of 'free intimacy' is available for copying.
Veiling is neither commercial nor political; it is a fashion of modesty without any sexual, financial or age limitations.
Veiling can also offer 'public figures' the chance of a normal life.
Veiling is a global fashion without any orientation towards profit. It can be copied by anyone, and it is cheap, since multinational businesses are not stakeholders.
Veiling increases the scope of individual expression through the fashion of disguise.
With and by
Edgar Aichinger, Armin Bardel, Alexander Brom, Robert Drapela, Hagnot Elischka, Andrea Fischer, Christa Hoch­egger, Michael Krammer, Hannes Leng­auer, Anja Lerch, Miki Malör, Felix Nieder­hauser, Gerda Schorsch, Helmut Schütz, Christoph Spiess, Martina Spitzer, Berna­dette Stummer, Patricia Thill and pupils of the School for Fashion Michel­beuern.
Links
Project homepage with background information, patterns and over 100 photos.
The original website of the Canadian artists' collective 'Quartier Requin' (founders of the Veiling Movement) has been removed from the Net in Dec. 2002; we have mirrored it here for you.
Time, Place
December 2001
WUK, Vienna
Sorry, your browser doesn't support embedded videos in this format.